This is a Sponsored post written by me on behalf of
STOLI® Vodka
for
SocialSpark
. All opinions are 100% mine.
One of my all time favorite summertime drinks is lemonade. As a kid, we learned business skills pushing lemonade to passerby's for a quarter at our lemonade stands. You didn't even need to use quality ingredients, just a little of your Mom's lemonade powder, water, a few glasses and POOF - money maker! Though we all know you drank half of your product yourself and refused to share your profits evenly with the neighbor kids, right?
Now I'm all grown up, and so is my lemonade. These days, not only do I prefer to make my lemonade from REAL lemons - but I prefer to make it into a refreshing summer cocktail, to be enjoyed in the sunshine! I was recently introduced to
Stoli® Vodka
during last week's 4th of July celebrations, so I am excited to share them with you!
Considered a trail-blazer in the vodka industry, Stoli® Vodka is the original premium vodka and defines the benchmark for quality with meticulously crafted liquid that meets the highest Alpha Spirit standard.
Stoli® Vodka is positioning the Lemonade cocktail as the must-have drink of the season as it launches the "100 Days to Squeeze" campaign. Celebrating a fresh twist on the classic summer cocktail, the original vodka brand will highlight the cocktail's versatility and infusion of local ingredients using its renowned flavor portfolio of Stoli® Ohranj™, Stoli® Citros™, Stoli® Razberi™ and Stoli® Blueberi™.
It all starts with this simple basic cocktail recipe for a
Stoli® Lemon-ade:
- 2 parts Stolichnaya® Vodka
- 4 parts lemonade
- Build in an ice-filled Mason jar or highball glass and stir.
- Garnish with lemon wheels
I can attest that the smooth grain taste of
Stoli® Vodka
pairs perfectly with the tart and sweet notes of a crisp, ice cold lemonade. You can make it your own with Premium
Stoli® Vodka
, or one of the other
Stoli® Vodka
flavors. And example - h
ave raspberry bushes? Pluck a small handful, place them in a mason jar with a few leaves of fresh thyme, muddle them with the end of a wooden spoon, and follow the
Stoli® Lemon-ade
recipe above. Garnish with a couple of plump raspberries. No garden? Head to your local farm stand for your favorite in-season fruits and herbs to make it your own! (I'm thinking strawberries and basil!)
Stoli® Vodka's "100 Days to Squeeze" campaign encourages you to squeeze the most out of your summer by stopping by one of their
Stoli-branded lemonade trucks or national
Stoli® Lemon-ade
bar night events
across the nation including: Boston, Chicago, Dallas, Denver, New York, and New Jersey.
The trucks, deemed 'limo-nades', will head out across the country to sample
Stoli® Lemon-ade
cocktails, serve refreshing flavored Lemonade ice pops, and daring consumers to take part in fun summer challenges to win
Stoli® Lemon-ade
prizes. In addition,
Stoli
®
has created unique value-added packs (VAPs), complete with the iconic glass mason jar and lemon squeezer, to make it easy for consumers to serve their own cocktails at summertime events. Available at off-premise locations across the nation, the VAP will also include a 750mL bottle of Stoli
®
Vodka.
So grab a neighbor or friend, and come join the festivities!

Squeeze the most out of summer and head to Thrillist or visit the Stoli
®
Facebook page to find out more!
Follow Stoli
®
on Twitter for details on the #StoliLemonade trucks and share your summer moments using #StoliLemonade on Twitter and Instagram. Join us on Facebook to squeeze the most out of summer with Stoli
®
.
Where do you plan to have some fun in the sun with a Stoli
®
Lemonade in hand?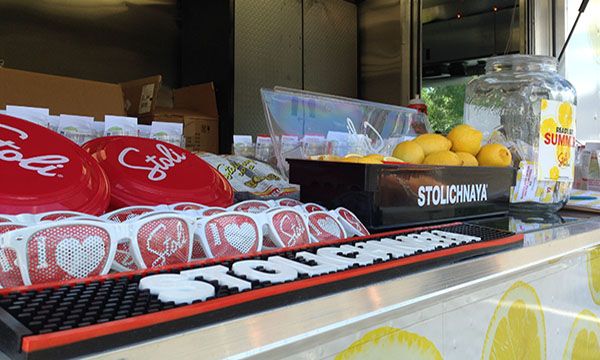 As with any cocktail, please remember to drink responsibly, like your mother told you to. Or else.